Let's get real!
Climate Change facts;
Test yourself!
Which are the biggest polluters?
How do polluters get their own way?
How do big companies influence governments?
How does informal political influence work in Britain?
How to tell the difference between "Good" and "Bad" businesses?
What are the effects of Global Warming?
Please help US!!
Top 5 most polluting countries
China (30%) The world's most populated country has an enormous export market, which has seen its industry grow to become a serious danger to the planet. …
United States (15%) The world's biggest industrial and commercial power. …
India (7%) …
Russia (5%) …
Japan (4%)
The top six largest coal-producing countries in the world
China – 3.7 billion tonnes. …
India – 783 million tonnes. …
United States – 640 million tonnes. …
Indonesia – 616 million tonnes. …
Australia – 550 million tonnes. …
Russia – 430 million tonnes.
China leads the way among the world's top coal-producing countries by far, but several other regions account for significant output of this much-used resource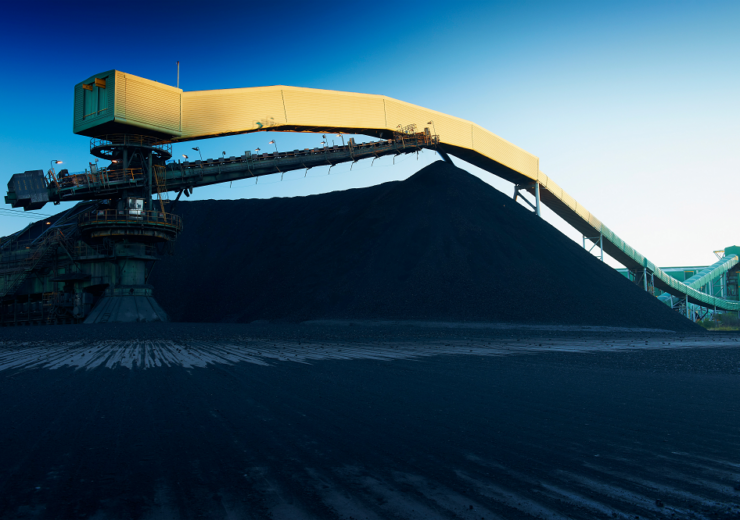 The world's largest coal-producing countries have delivered a resource to global markets that has powered industrialisation, through thermal electricity generation and as an ingredient for manufacturing processes like steelmaking.
While climate concerns and efforts to decarbonise the global energy system have diminished coal's stature in recent years, it nevertheless remains the biggest source of the world's electricity generation – accounting for 38% of the overall share in 2019, according to the International Energy Agency (IEA).
Coal production has risen year-on-year since 2016, and global coal reserves have been measured at more than one trillion tonnes.
IEA data indicates total world coal production topped 7.9 billion tonnes in 2019 – its highest since 2014 – growing at an annual rate of 1.5%, which was half the rate of recent years. Thermal coal and lignite made up around 86% of this production, and the remainder was metallurgical coal.
Latest estimates for 2020 suggest a 6.5% annual decline in global output as a result of lower demand during the coronavirus pandemic, although a rebound to 7.6 million tonnes is expected in 2021.
Fast fashion produces over 92 million tonnes of waste a year, study finds
Twenty firms produce 55% of world's plastic waste, report reveals
A recent report reveals for the first time the companies who produce the polymers that become throwaway plastic items, from face masks to plastic bags and bottles, which at the end of their short life pollute the oceans or are burned or thrown into landfill.
It also reveals Australia leads a list of countries for generating the most single-use plastic waste on a per capita basis, ahead of the United States, South Korea and Britain.
ExxonMobil is the greatest single-use plastic waste polluter in the world, contributing 5.9m tonnes to the global waste mountain, concludes the analysis by the Minderoo Foundation of Australia with partners including Wood Mackenzie, the London School of Economics and Stockholm Environment Institute. The largest chemicals company in the world, Dow, which is based in the US, created 5.5m tonnes of plastic waste, while China's oil and gas enterprise, Sinopec, created 5.3m tonnes.
Eleven of the companies are based in Asia, four in Europe, three in North America, one in Latin America, and one in the Middle East. Their plastic production is funded by leading banks, chief among which are Barclays, HSBC, Bank of America, Citigroup and JPMorgan Chase.
The enormous plastic waste footprint of the top 20 global companies amounts to more than half of the 130m metric tonnes of single-use plastic thrown away in 2019, the analysis says.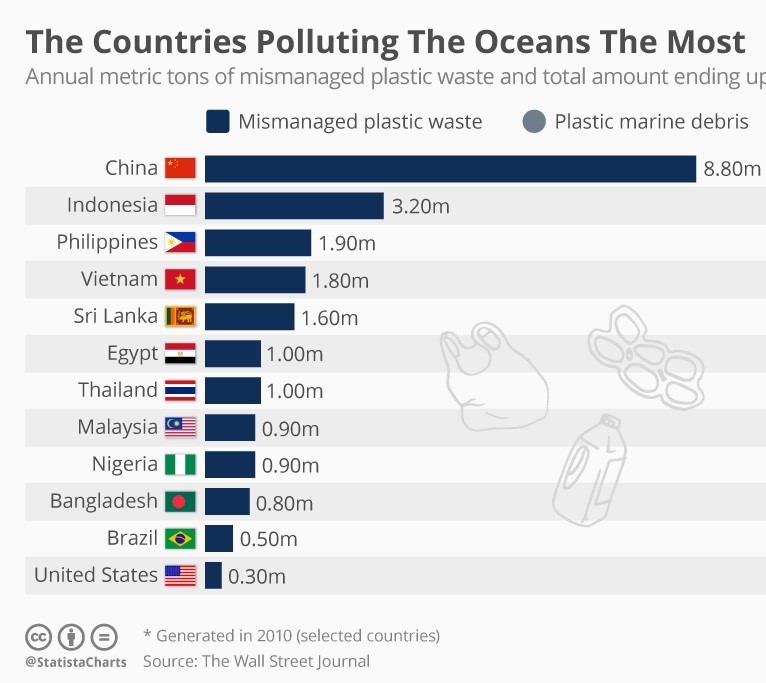 Top ten largest oil-producing countries in 2019
1. United States – 17 million barrels per day
The US is also the world's top natural gas producing country, a status again helped by the emergence rise of shale fracking technologies.
2. Saudi Arabia – 11.8 million barrels per day
The Kingdom of Saudi Arabia occupies second place on this list of top oil-producing countries, with a national output of around 11.8 million bpd in 2019 – 12.4% of the global total.
3. Russia – 11.5 million barrels per day
Russia produced around 12% of the world's oil supply in 2019, measured at just above 11.5 million bpd.
Like Saudi Arabia, the country is a significant exporter of oil to global markets, and is the de facto leader of a group of countries allied to Opec,
Most of its exports are sent to China, as well as key European markets including the Netherlands
4. Canada – 5.6 million barrels per day
Most of Canada's oil – around 97% of it – is contained within oil sands in the western province of Alberta. After Venezuela and Saudi Arabia, Canada has the world's third-largest known oil reserves.
Almost all of the country's exports are sent to US markets – roughly 3.7 million bpd in 2019.
5. Iraq – 4.8 million barrels per day
Iraq pumped just under 4.8 million bpd in 2019, taking fifth place on this list of the largest oil-producing countries. It is a founding member of Opec.
6. United Arab Emirates – 4 million barrels per day
The United Arab Emirates (UAE) has grown in stature as a global oil producer in recent years, and in 2019 hit an output of around four million bpd.
The state-owned Abu Dhabi National Oil Company (Adnoc) controls much of the UAE's oil reserves, although partners regularly with foreign, private-sector companies in upstream operations.
Oil exports – many of which head to Japan – account for around 25% of the UAE's gross domestic product (GDP), and the country has been a member of Opec since 1967.
7. China – 3.8 million barrels per day
China produced slightly above 3.8 million bpd in 2019, accounting for a 4% share of the global total.
Production in the country is dominated by large, state-owned companies, including China National Offshore Oil Corporation, Sinopec and China National Petroleum Corporation.
8. Iran – 3.5 million barrels per day
Iran, which is a founder member of Opec, accounted for around 3.7% of global oil production in 2019, with national output totalling more than 3.5 million bpd.
Despite holding almost 10% of known international oil reserves, strict economic sanctions imposed in response to its nuclear weapons programme have prevented the country from maximising the commercial potential of its oil wealth.
9. Kuwait – 3 million barrels per day
Sandwiched between Saudi Arabia, Iraq and the Persian Gulf, Kuwait is among the world's most significant oil-producing countries, despite its small size.
10. Brazil – 2.9 million barrels per day
Brazil is the only Latin American country on this list, and accounted for around 3% of global production in 2019 with an output of around 2.9 million bpd. The country ended the state monopoly of its exploration and production (E&P) industry in 1995, and its proved oil reserves and rate of production have increased steadily since. State-backed company Petrobras remains highly active in Brazil's domestic oil industry.
Control of the Media
These 6 corporations control 90% of the media outlets in America. So much for the illusion of choice and objectivity…..

POSTED ON SEPTEMBER 18, 2020
---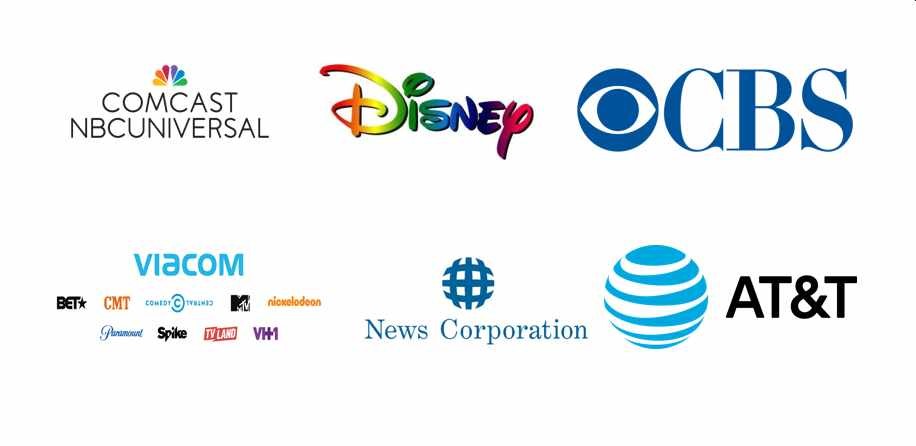 Elite is a word we use in our daily conversations but few people probably know the origin and the history of the word. Elites (French élite, from Latin eligere, to select or to sort out) are a small group of powerful people who hold a disproportionate amount of wealth, privilege, political power, or skill in society.
This elite class, which also includes the Big Tech companies, now controls what we read, watch, or listen to. There is even a new browser extension tool that shows how the Big Tech giants are invading your privacy by tracking your every move online.
Today, their impacts are more felt in our online news intake and media consumption habits. 37 years ago, 50 companies control the media in America. Fast forward to 2011, American news outlets are controlled only by 6 powerful corporations. Back in 2018, Jim Morrison, a singer, songwriter, and poet, who served as the lead vocalist of the rock band, once said: "Whoever controls the media, controls the mind."
He was right. Today, Americans think they have an unlimited variety of entertainment and media options right at their fingertips. But it is all a lie. This illusion of choice was fabricated by the media elites. In the early 90s before the mainstream adoption of the Internet, the media landscape used to be simple and straightforward. Today, 6 media giants control a whopping 90% of what we read, watch, or listen to.
Objectivity in journalism is an illusion created by the elite class to give the appearance of balanced news. However, there is no such thing as unbiased news. Journalists who work for these six corporations answer to their owners and ultimately serve their agendas. For example, no logical thinking person will expect Washington Post to write a fair and objective story about its owner, especially a story that Jeff Bezos reportedly cheated on his wife. The point of all these is that the media outlets don't necessarily serve the interest of the people they control, instead, they serve the interests of their owners.
Lobbying and "Chumocracy" – a British Disease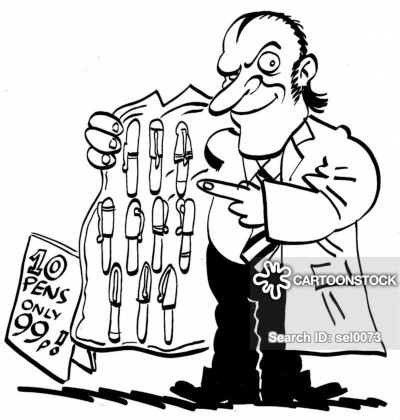 What does a tax-avoiding, polluting, privatising corporation have to do to get its way with the British government? "We all know how it works," said David Cameron of lobbying. But do we? Lobbyists are the paid persuaders whose job it is to influence the decisions of government. Typically, they operate behind closed doors, through quiet negotiation with politicians. And the influence they enjoy is constructed very consciously, using a whole array of tactics.
Lobbyists operate in the shadows – deliberately. As one lobbyist notes: "The influence of lobbyists increases when it goes largely unnoticed by the public." But if the reasons why companies lobby are often obscured, it is always a tactical investment. Whether facing down a threat to profits from a corporate tax hike, or pushing for market opportunities – such as government privatisations – lobbying has become another way of making money.
"Chumocracy"
The great global hope raised this week by news of successful trials for a Covid-19 vaccine interrupted a very British row about the head of the UK's own vaccine efforts, who was appointed in May and reports directly to Boris Johnson.
As Kate Bingham, chair of the vaccine taskforce, came under sustained scrutiny over the £670,000 budget she had allocated for public relations consultants, attention switched from her suitability for the role to her connections to the Conservative government.
Managing partner of a private equity firm, SV Health Investors, involved for 30 years in pharmaceutical investment, she is also married to a Tory MP, Jesse Norman, who was at Eton College at the same time as Johnson, and she went to private school with Rachel Johnson, the prime minister's sister.
Bingham's appointment shares similarities with that of Dido Harding, to head the NHS test and trace operation in May. She was made chair of NHS Improvement in 2017 after an open recruitment process, her CV gleams with executive experience, and also opens a window to a small world of Conservative connectedness. Married to the Tory MP John Penrose, she was given a peerage in 2014 by David Cameron, a friend, and sits in the House of Lords as a Conservative.
Neither Bingham nor Harding are being paid for their roles, but critics complain that two central pillars of the pandemic response, vaccines and testing, are being led by two well-connected executives appointed without an evident formal process.
A racehorse owner and keen rider, Harding was in 2004 appointed as a member of the Jockey Club, which gave the local Newmarket MP and current health secretary, Matt Hancock, another horseracing enthusiast, honorary membership of its prestigious rooms, shortly after he was first elected, in 2010.
The anti-establishment claims of a government led by Johnson and Dominic Cummings were always audacious, and in the appointments and contracts awarded during the pandemic, the shape of a Tory establishment has come into focus. Critics are calling it a "chumocracy".
A Quick Guide to help tell Good Enterprises from the Dangerous ones…
First, be suspicious of enterprises or businesses that:
Make money out of speculating with money, for example currency and money dealers
Enterprises that buy organisations to strip them down , load them with debt and sell them on, for example Private Equity
Financial enterprises that aim to maximise their profits in the short term
Organisations that reward their owners or managers excessively eg pay more than 20 times the average pay of employees
These kinds of organisations and enterprises are likely to be good for Society and the Planet:
Enterprises whose primary purposes are to enhance the well-being of the Community and which Re-invest most of their profits – for example Social Enterprises
Businesses whose stated and practised primary purposes are to serve their Customers, Staff and the Community before their financial investors
---
Greta Thunberg: 'Only people like me dare ask tough questions on climate'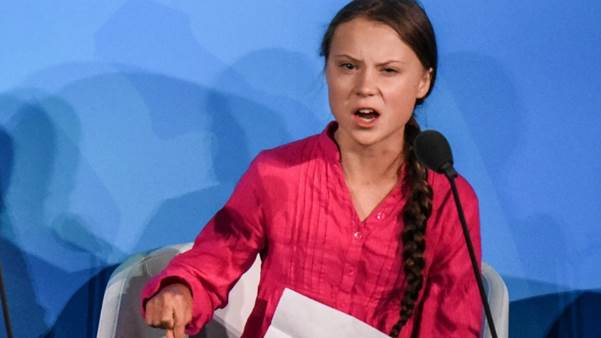 And at the 2019 UN climate summit in New York, an infuriated Thunberg told delegates:
"People are dying. Entire ecosystems are collapsing. We are in the beginning of a mass extinction, and all you can talk about is money and fairytales about eternal economic growth. How dare you!" 
---